Meet The Team
University of the Nations, Kona, HI.
Amy Kirbow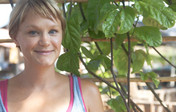 I am Amy Kirbow and I am about to see the next GoMidwife set of seminars start!
Cyndi Stratton
Cyndi Stratton came from Puyallup, WA with her family to Kona in March 2013 to work with the LETS department at U of Nations.
Derek Kirbow
My name is Derek Kirbow. I oversee the Appropriate Technology Village (ATV) for the LETS team at the University of the Nations, Kona campus.
Jefferson Brunetti
I arrived in Kona, March 2015, and have been with the Natural Farm since then. I am persuring a dregee in community development. I have received training in Natural Farming and Appopirate Technology with the idea of taking this back to West Africa.
Norman Moe
We now live permanently in Kona after spending 23 years in NZ.
Most of my career has been in Aquaculture (Salmon Farming) in Oregon, Chile and New Zealand.
Ricardo Otake
I am 3rd Generation of Japanese descendant from Brazil. I'm married with Nadia Otake and we just had our first daughter Isabella Leilani.
Terry Stratton
God surprised us in 2013 by inviting our little family to move from Washington state to join the YWAM UofN Kona, LETS family.
Thema Black
I am an Oregon native transplanted to Kona since 2002, and I take care of the campus sheep.
Tony & Christine Arcus
Hi, it is great to be back in Kona with LETS, we have had a two year journey to get Tony and myself here, but now that we are here we are enjoying many of the aspects of LETS. I (Christine) spend most of my time in the Aquaponics.
Tony Arcus
So good to be here. I love the technology of Lets! Be it sawdust based technology, waste technology or my favourite, keyboard based technology.
Just recently I was using my rather limited skills behind a video camera to film the GoMidwife class learn from a real placenta.
Working here is just way too much fun.
Vernon Byrd
My name is Vernon Byrd, I am originally from Homer, Alaska and arrived in Kona in 2011. A number of people from my home church had done Mission Building and DTS's here at The University of the Nations. Seeing people being transformed by the Gospel is one of my greatest joys.
I am currently the coordinator of the LETS team at the University of the Nations, Kona campus.